Markus Weber
Kantonsspital St. Gallen, Switzerland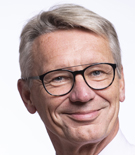 Markus Weber is a Professor of Neurology and  head of the Muskelzentrum/ALS clinic at the Kantonsspital St.Gallen, Switzerland
He studied psychology and medicine at the Universities of Konstanz, Bonn and Tübingen and received  his MD from the University of  Bonn in 1989.
After his residency he  received further clinical training at the National Hospital for Neurology and Neurosurgery, Institute of Neurology, Queens Square London leading to the Diploma in Clinical Neurology .
He was a senior resident at the University of Essen from 1996 to 1997 and got involved in ALS research during his 3- year neuromuscular fellowship at the University of British Columbia, in Vancouver, Canada.
His research interests cover clinical neurophysiology of the upper and lower motor neuron, outcome measures, trial designs and cannabinoid research. His team is engaged in  several  EU- funded projects.
His team as developed and refined a novel method called MUNIX which is utilized as a biomarker for motor neuron loss and is currently training the leading European and US ALS centres.
Markus Weber is a member of the ENCALS (European network for the cure of ALS) executive committee, co-chair of the EAN scientific panel on ALS and frontotemporal dementia and serves on the advisory boards of several pharmaceutical and biotech companies.