Dear Colleagues,
It is our pleasure to invite you to participate in The 3rd International Annual Congress on Controversies on Cannabis-Based Medicines (Med-Cannabis2022) which will take place 02-03 November 2022 in Copenhagen, Denmark. 
Med-Cannabis2022 will address the many controversies surrounding cannabis-based medicines. Strong public and patient demand has led to the decision to allow cannabis products for medical use in most European countries. There is a lot of basic-science and clinical research on the potential use of cannabis products for chronic pain and cancer management as well as controversies on the potential harms.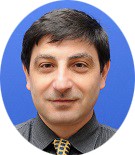 Dr. Silviu Brill
Congress Chair
READ MORE

Contact Us
Please drop us a line with any questions or comments you may have.

We look forward to hearing from you.